The Latest Technique, Steps & Styles
The Arthur Murray Franchised Studios have found that students learn most quickly and effectively on a scholastic basis. Your Introductory Program is the first student level. You will be taught the foundation patterns of the most popular dances today. Your instructor will explain how the Medal Standards are taught and will plan a personalized dance program to fulfill your specific needs and desires.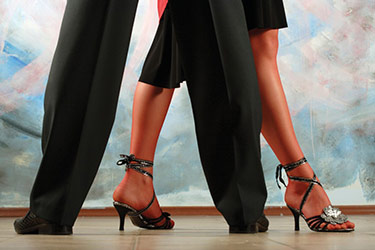 The degree of dancing you will achieve varies depending on your desire, goals, commitment, and interest. After your Introductory Program, the dance levels (degrees) progress from Associate and Full Medalist programs in Bronze, Silver, and Gold Standards. These courses are designed for people like yourself who desire a fundamental foundation or more advanced training in the social, as well as competitive (dance sport) styles.
The majority of students who come to an Arthur Murray Dance Studio are interested in becoming good social dancers and our Medalist programs will help you achieve that goal. If competitive dancing (dance sport) is your desire, Arthur Murray Dance Studios can train you in the latest technique, steps and styles. Indeed, we boast some of the top competitive couples in the world today.
Our instructors are carefully selected and thoroughly trained in the exclusive Arthur Murray teaching method. This assures you the finest instruction in dancing. You will have a regular dance teacher who will be responsible for your progress. Periodically, you will have exchange lessons with other teachers which will give you experience and practice in adapting to a variety of dance partners and dance styles.